If you choose to access information on the RealTime Health web site you agree to the following:
The site does not provide medical advice
The content of this site is provided on an "as is" basis for informational purposes only. The information and content of http://www.realtimehealth.com is not intended as a substitute for medical advice or treatment from a medical professional. Always seek the advice of your medical professional if you have any concerns regarding your health. Reliance on any information provided on http://www.realtimehealth.com is entirely at your own risk. Never disregard medical advice from a medical professional because of something you have read or heard on the RealTime Health web site.
Liability of RealTime Health
RealTime Health, to the fullest extent permitted by law, disclaims all warranties, either express or implied, statutory or otherwise, including but not limited to the implied warranties of merchantability, non-infringement of third parties' rights, and fitness for particular purpose.
The use of the site and the content is at your own risk. When using the site, the transmission of data may be out of the control of RealTime Health. Accordingly, RealTime Health assumes no liability for or relating to the delay, failure, interruption, or corruption of any data or other information transmitted in connection with use of the RealTime Health Site.
Without limiting the foregoing, RealTime Health, its licensors makes no representations or warranties about the accuracy, reliability, completeness, currentness, or timeliness of the Content, software, text, graphics, links, or communications provided on or through the use of the RealTime Health Site.
In no event shall RealTime Health, its licensors, its suppliers, or any third parties mentioned on the RealTime Health Site be liable for any damages (including, without limitation, incidental and consequential damages, personal injury/wrongful death, lost profits, or damages resulting from lost data or business interruption) resulting from the use of or inability to use the RealTime Health Site or the Content, whether based on warranty, contract, tort, or any other legal theory, and whether or not RealTime Health is advised of the possibility of such damages.
Last Updated: 30-Jan-2009
This site complies to the
HONcode standard for trustworthy health
information:
verify here
.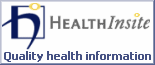 Our site has been approved by the HealthInsite Editorial Board to be a HealthInsite information partner site.