RealTime Health
Help
Video Problems?
Video clips on the site require Adobe Flash 8 or higher to play. If Flash 8 or higher is installed correctly you should see the RealTime Health animated logo playing in the video pane on our home page. To check which version of the Adobe Flash Player is installed in your web browser visit this page at the Adobe web site. Visit the Adobe site in order to install or update Adobe Flash Player if necessary.
If you have technical questions or feedback regarding the site and content please contact us .
If you notice any irregularities on the site, please let us know.
Last Updated: 06-Feb-2009
This site complies to the
HONcode standard for trustworthy health
information:
verify here
.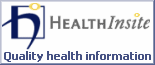 Our site has been approved by the HealthInsite Editorial Board to be a HealthInsite information partner site.